Step into Kathara Spa in Courtland Virginia, where the relaxation of our guests is our priority. Treat yourself to a day of pampering with new and innovative treatments at our Virginia spa.
Thank you for considering Kathara Spa, we are passionate in providing you with an experience you will not soon forget.
We use and sell products that consist of only the purest ingredients.
During our facials you will have the pleasure of being treated with Arbonne Skin Care Products, they have been helping men and women with healthy skin care for over 35 years.
We use Zoya for our manicure and Pedicures.  These superior polishes are formulated without the big 5 chemicals.  Such as formaldehyde,toluene and DBP.  (Phthalate group)
For our body treatments we use M'ls.  Results without the worry.   
What can Kathara do for you?
Theraputic Massage
Book yourself a 30/60/90 min Therapeutic Massage.  Release the toxins stores in your sore over stressed muscles.  Leave ready to face your day!
Prenatal Massage
Moms and soon to be moms.  Allow us to soothe those over used muscles.  Relax before your life is so busy with baby.   You must be past your first trimester.  Please check with your Dr. First.
30/60 min options.
Raindrop Massage
Soothe your body and soul.  Two hours to decompress.  Essential oils applied to your feet and spine will  ground your body and mind.  This massage is not for the faint of heart!
Hot Stone Massage
Leave the weight of your day being.  Melt into the table as these hot stones take away all your worries.  
60/90 minute options
Couples Massage
Spending time together never felt better!  Enjoy time together while relaxing.  Two therapists and two tables equals the best 30/60 minutes of your day.
Neuro-Stim
Do you have unwanted scars or scar tissue inhibiting you?  Do you have a aching joint or a pain that just won't get better?  Neuro-Stim  may help you.  Add this service to any massage or book alone for 30 minutes.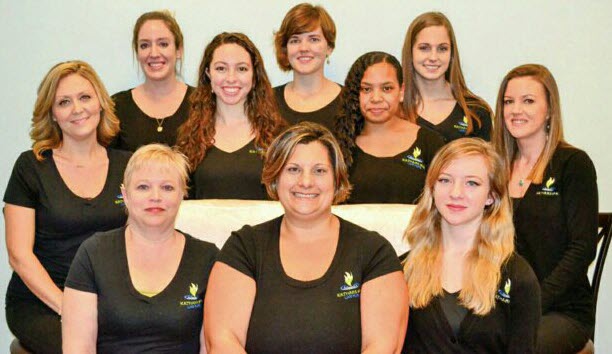 THE TEAM!
Let us help you. Each therapist brings different techniques to your massage. Pick your favorite or try all of us. Someone is always available to schedule.
Kathara Spa has been in Courtland, Virginia for three years.  We have built our business with the gracious clients from Southampton County.  These men and women are our foundation.  We are now growing into other areas, such as Emporia, Suffolk, Chesapeake and areas of North Carolina.  Please join us in making our fourth year superb!
The Liebell Clinic: Chronic Pain And Wellness Solutions – Chronic Pain Relief, Holistic Wellness Healthcare, Chronic Pain ManagementThe Liebell Clinic: Chronic Pain and Wellness Solutions – Chronic Pain Relief, Holistic Wellness Healthcare, Chronic Pain Management, Virginia Beach, Virginia
How Gluten and Modern Food Processing Contribute to Poor Health "Gluten: A Gut Feeling" investigates the health effects of gluten. In recent years, the benefits of a gluten-free diet have become widely recognized, its popularity fueled by celebrity endorsements and an increasing number of books. Welcome to the Beginner Nutrition Plan Even if you feel …