Step into Kathara Spa in Courtland Virginia, where the relaxation of our guests is our priority. Treat yourself to a day of pampering with new and innovative treatments at our Virginia spa.
Thank you for considering Kathara Spa, we are passionate in providing you with an experience you will not soon forget.
We use and sell products that consist of only the purest ingredients.
During our facials you will have the pleasure of being treated with Arbonne Skin Care Products, they have been helping men and women with healthy skin care for over 35 years.
We use Zoya for our manicure and Pedicures.  These superior polishes are formulated without the big 5 chemicals.  Such as formaldehyde,toluene and DBP.  (Phthalate group)
For our body treatments we use M'ls.  Results without the worry.
Time Until Christmas!
-61
Days
-5
Hours
-40
Minutes
-43
Seconds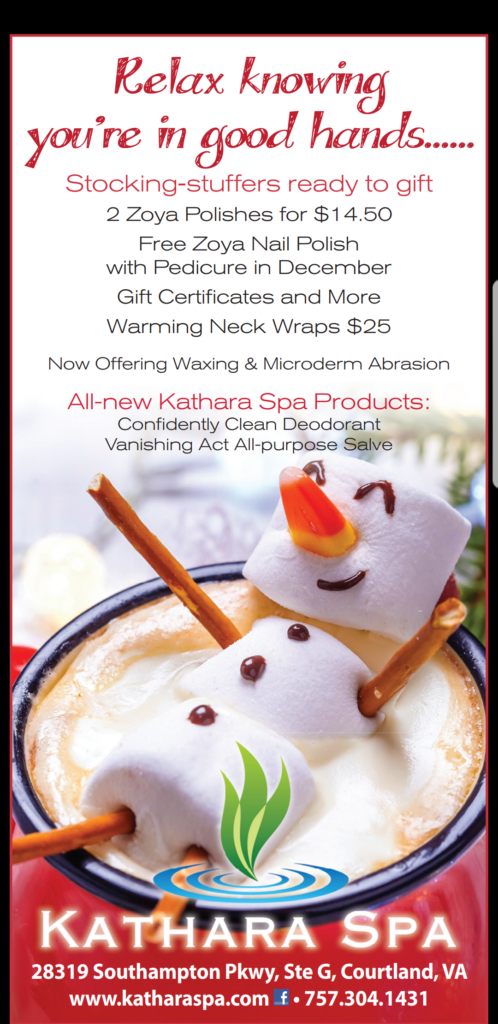 Join us for Yoga with Jane Fries at Contemporary School of Dance in Courtland.
fall schedule:
Tuesday and Thursday's
6:45 pm.
Please Arrive 10 minutes early to start relaxing.